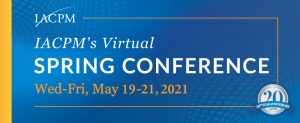 Registration is now open for the IACPM Virtual Spring Conference.  We hope you will join us!
Members and Regulators pay the discounted rate of US$525.  All others pay $725.  Please note:  Non-member firms must be eligible for membership and may attend no more than two conferences as paying guests.
The Conference will take place over three days and will include Plenary Sessions and Breakout Streams.
To view the agenda click here.
To register for the conference click here.  Any questions regarding registration please contact conferences@iacpm.org.
Please feel free to contact us if you have any suggestions or questions regarding the Virtual Spring Conference.
You can email us at conferences@iacpm.org
We hope to see you there!