IACPM collaborated with the Risk Management Institute of the National University of Singapore on their Fifth Annual Policy Forum.   The conference theme was "Global Imbalances and Their Risk Management Implications", and the event which took place on July 6-7, 2011, drew over 300 delegates from banks and financial institutions, central banks, regulatory agencies, and academia.  This is the third year that IACPM has worked with RMI on the Policy Forum and this year's event was the largest to-date.
Policy Forum topics included an economic outlook presented by keynote speaker, Martin Feldstein and a CRO panel discussion with Government of Singapore Investment Corporation, DBS and China International Capital Corporation.  IACPM's panel topics included:   Stress Testing and Capital Adequacy; and Building Markets for Distribution.
IACPM also offered a half day Educational Workshop on the preconference day.  Topics included:
• Challenges of Portfolio Management in Asia
• Global Financial Stability:  Basel III Impacts
• Setting Up a Credit Portfolio Management Function
• Implementing CPM:  How do you do CPM when you can't sell loans
• Lessons Learned and Emerging CPM Issues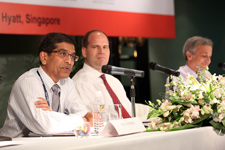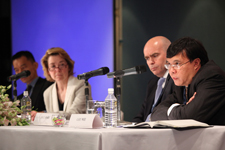 IACPM would like to thank our speakers for their support at the Educational Workshop and Policy Forum:   Jeff Bohn, Soliton Financial; Davide Crippa, Standard Chartered; Mike Cutlip, HSBC; Noel D'Cruz, OCBC; Paul Hare, Standard Chartered Bank; David Hendler, CreditSights; Loretta Hennessey, L Hennessey Associates LLC; Richard Henshall, Westpac; Marc Intrater, Oliver Wyman; Boon-Yick Tan, Deutsche Bank; and Gary Wee, Orchard Global Asset Management.
We also appreciate the time spent meeting with the Monetary Authority of Singapore and IACPM's member firms in the region during the week of the event.
Additional information about the conference is available on RMI's website.  http://www.rmi.nus.edu.sg/aboutus/enewsletterrmi/issue8/enewsletterRMI_index.html