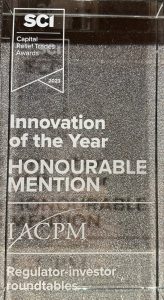 The IACPM, in recognition of its SRT regulator-investor roundtables, was very pleased to have received an Honourable Mention in the Innovation of the Year category at this year's Structured Credit Investor Capital Relief Trades Awards.
We have been actively working over the last few years to cultivate a collaborative relationship with global regulators in order to share data and discuss the current status of the synthetic securitisation market. Because the IACPM provides a fair and balanced opinion between originators and protection sellers, supported by detailed data, global regulators engage with the IACPM on topics ranging from prudential treatment to STS parameters and disclosure templates.
Since 2016, the IACPM has:
Built a community to support understanding and use of the SRT
Collected detailed volumes and transaction data on tranching, structuring and investors' profile, assisting its members in designing the most effective transactions
Interacted in partnership with regulators to establish fair prudential treatment as well as solid and transparent frameworks for SRT transactions
Have become an integral part of discussions between market participants and regulators, which has served to advance and promote the product
We were pleased to accept this honor, the first ever given to an association, as we continue to grow our work in this area.
To find out more about the IACPM's work in Synthetic Securitization, please click here.